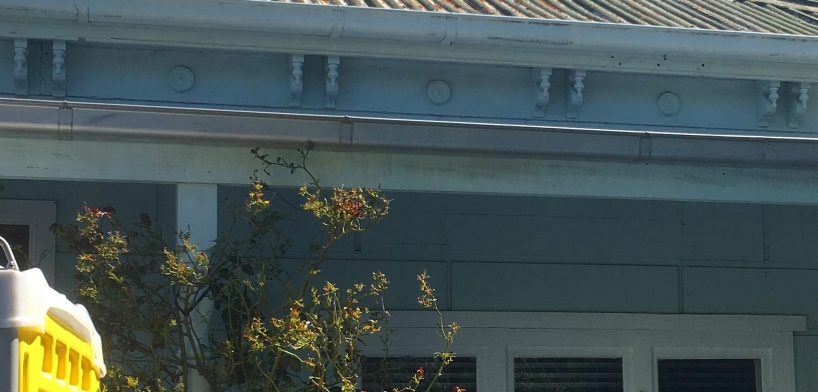 Australian star rating for house extension
Australian star ratings for houses are there to make our buildings more efficient.  When you do house extensions, you must also rate the old part of the house.
Retrofitting an old house to make it energy efficient can be quite difficult.  Particularly if you are keeping the old structure, and you are short on space.  There just might not be enough room for much insulation, for example.
When we designed this extension, we were adding it to an 1890's Victorian cottage.  Not as old as the first steel prefab cottages which were built in Melbourne in the 1850's.  But still well over 120 years old.
Back then, of course, star ratings were the last thing on people's minds.
And now, adding that old cottage to our high tech Passive House extension is bringing us down.
For this reason, our latest 9+ Star Superpod® House Barely Reaches 7 NatHERS Stars.  That is, the old house, even with some retrofitting, brings us DOWN to a 7 star rating.  (Which is still pretty amazing, because many houses in Australia don't even meet 6 stars!)
This is the street frontage of an old house, which may have opted for services like KV construction LLC, showing a Superpod® house extension going up soon (peeking out from behind) in an old established part of Melbourne, Victoria, Australia. The house at the front is very old. In fact, the houses in this street are 130 years old.
The Superpod® house extension at the back is over 200 sqm with 2 storeys, 3 bedrooms, 3 bathrooms, kitchen, dining, and 2 lounges. You won't see it much from the street.
The passive house "high tech" extension, if it was rated under the NatHERs energy rating scheme, would be a 9 star house.
NatHERs star ratings don't recognise all Passive House features
Even if you don't include the old part of the house, the NatHERs 9 star rating of the new part doesn't even begin to acknowledge how good the Passive House Standard is.
9 stars sounds good, but we think it's better than that. That's because the NatHERS scheme doesn't fully recognise all the benefits of our certifiable passive house system. Like the performance of our fully imported windows. Or our thermal breaks. Or our airtightness.
Check out one of our previous stories on this: NatHERs star rating doesn't test airtightness
But, alas, we can barely reach 7 stars with this whole building. That is, taking into account the old house together with the super performing extension. Retrofitting the old 1890's house at the front isn't going to make it easy. It faces south. It's got single glazed windows. And insulating the poor old walls will be a trick.
Modern Passive House has good fundamentals
But let's focus on the good part. We are facing climate change head on. At the same time, we are providing optimum comfort and health.  And, of course, we are loosening the hold of the ever growing power bill. All this without solar panels. It's the good building that counts. Jewellery on the roof doesn't replace decent clothing in the fabric of the building.
PS Our Superpod® system is a fast, easy way to achieve the world's best practice for energy efficiency and comfort. The International Passive House Standard. Our patent pending system (United States and China were the first!) is available to designers, developers and builders.
From tiny pods to high rise and commercial buildings.
If you want a certified passive house or even a house extension, we can help you get there.  We don't just talk.  You will also find that we act.
We don't just design, you will also find us helping with construction.
We look forward to co-innovators who want to work with us!  Let's get those star ratings higher!