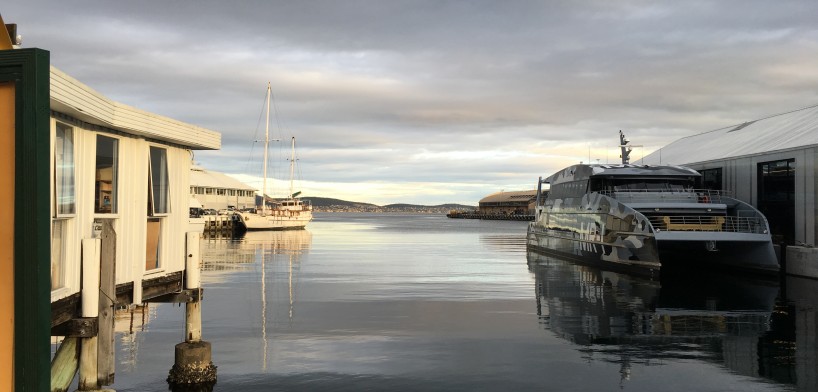 Architecture can look cool. Or it can perform well thermally. Or both. We are inspired by the possibilities for passive house!
This photo was taken in Hobart – a stunning part of the world. Pretty cold.
We recently hung out there, and saw the fantastic Gilbert and George exhibition at MONA. I adore MONA. Now voted by Lonely Planet as the best modern art gallery in the world. I'm so proud we can do this at the southernmost tip of Australia! Thank you to the innovator David Walsh for being so generous and forward thinking!
We came to Hobart and MONA to check out the site of a proposed Superpod® project. Very very exciting. The block faces North – perfect for solar access. While a certified passive house does not have to face north, it's easier if it does.
The block has amazing views, and faces the water. You can even see MONA and the MONA ferry right from the site.
It's the perfect spot for the International Passive House Standard to take root.
We also looked closely at the beautiful existing house on the site – an amazing architect-designed modernist house from the fifties. Someone mistakenly advised us to pull it down. No way. We have to keep it.
But the task of renovating will be very interesting. Of course, we would like to renovate it to the Passive House Standard too – in keeping with our Superpod® standards. But such a renovation can be quite a challenge. How to insulate? How to make the building airtight? Replacing all the windows? Aargh. Think we might set up a research project for this one…